Il Cd, La Voce performante, presenta un'ampia campionatura di tutti quei poeti che hanno fatto della voce, dell'oralità, della vocalità e della vocoralità, il loro campo di battaglia.
Il materiale, proveniente dall'Archivio 3Vitre di Polipoesia, è stato presentato sotto forma d'estratto sia per ampliare al massimo il numero dei partecipanti sia per rendere più fluido e incisivo l'ascolto, e invogliare quindi l'ascoltatore ad approfondire il tema con ascolti più mirati e duraturi.
Le ragioni di questo documento sonoro, raro perché riunisce in un unico CD voci storiche della sperimentazione del Novecento, prezioso nel contempo perché permette un diretto confronto tra le diverse pratiche della voce impiegata in poesia, risalgono al desiderio di voler evidenziare, sempre e comunque, le pratiche della poesia sonora o fonetica e della polipoesia, spesso non tenute nella giusta considerazione negli odierni assetti sia letterari che artistici.
Il CD, forte del suo taglio didattico e della sua scansione rigorosamente diacronica, rientra nel progetto denominato La Voce Regina, poesia sonora in pubblico, installazione interfaccia e multimediale, consultabile in permanenza presso la Biblioteca Sala Borsa di Bologna e il Dipartimento di Italianistica dell'Università di Bologna.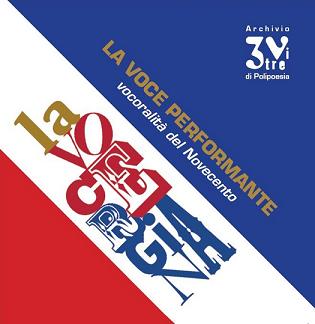 The CD, The performing voice, presents a well documented selection of all those poets who have chosen as a main medium to express themselves, their voice in the form of vocality, orality and vocorality.
The audio material comes directly from the Archive 3Vitre of Polypoetry, it has been treated in the shape of excerpts, both to extend at its best degree the number of the participants and to favour the act of listening, in order to get the listener to develop a deeper research of the item itself.
Such a CD is rare as it gathers in a unique anthology all the historical voices of the great experimentalism in the XX Century, and it allows a direct comparison among the different patterns of the voice used into poetical fields; it is an attempt to emphasize the due effort of all those poets who have totally trusted phonetic or sound poetry and polypoetry, as especially nowadays such practices are not always valued in a proper way in the current literary and artistic trends.
This CD is based on a strictly didactic style and on an historical sequence; it is rightly included in that huge project called La Voce Regina (The Queen Voice), an interface, multilevel, permanent installation, to be visited at Biblioteca Sala Borsa in Bologna, and at the Italian Language and Literature Department of the Bologna University.